Pit Furnaces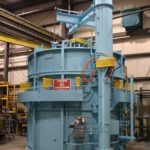 If you are looking for a standard or engineered pit furnace, contact Surface Combustion today. Surface® furnaces have a worldwide reputation for providing greater value through an unmatched combination of reliability, repeatability and rugged performance. We will help you determine the optimum solution from our pre-engineered or custom pit furnace designs for your process, product and material.
Pit Furnaces - Product Description
Surface offers standard pit furnaces based on our years of experience and engineered pit furnaces that are built to your specifications. Our customers rely on us to provide them with reliable, repeatable and rugged systems and equipment to improve the performance and competitiveness of their products. With over 250,000 thermal systems installed worldwide, Surface will partner with you to determine whether a pre-engineered or custom pit furnace design is best to meet your process, product and material requirements.
Surface pit furnaces work for a variety of processes with and without retorts. Our pit furnaces are designed be versatile workhorses: they handle both large workpieces and small parts loaded in baskets. We provide designs for atmosphere and direct fired applications. We have manufactured various sizes of pit furnaces for all major industries. Our standard pit furnaces can hold up to 30,000 lbs., range from 24 in. to 120 in. in diameter and are between 36 in. and 144 in. deep. We have built engineered-to-order designs with heavier loadings and larger dimensions such as soaking pits for reheating aluminum and steel billets.
Surface has a well-known reputation for providing solutions that are rugged and built to last. Our furnaces have proven to be extremely reliable due to our robust design practices. We love to hear stories about how furnaces we built over half a century ago are still producing quality work. A big part of that is how we design our casings with heavy plate that is supported large sectioned structural shapes. Steel plate lids assist in saving energy and provides access to lid mounted components. Furnace casings are welded gas tight or are properly gasketed to prevent atmosphere contamination and excess heat loss. Surface understands how casings grow and shrink during the furnace cycles and engineers the right thermal expansion joints into our designs.
Surface will work with you to choose from the latest technology in heating, energy efficiency and controls. Surface understands the difference between convection and radiation heat transfer. For low temperature furnaces, Surface designs the furnace chamber to allow high wind flow from the heat source through the work area using our proprietary high capacity, high temperature alloy fans mounted to the lid or the base. For high temperature applications, we engineer the furnace chamber geometry to provide rapid and uniform radiation heat transfer to the workload. Recuperation, providing added efficiency (up to 29% in some cases), is standard on all gas-fired high temperature furnaces.
Surface pit furnaces can be direct-fired with high velocity burners if the products of combustion provide a suitable atmosphere for the product. Surface provides direct-fired solutions that have high convective flow to provide fast heating and uniform soak temperatures.
For atmosphere processing, Surface is your best partner. Surface has long been known for its expertise in atmosphere processing. Whether the furnace uses RX® endothermic gas, DX® exothermic gas, nitrogen, nitrogen/methanol, nitrogen/hydrogen, ammonia, dissociated ammonia or any other process gas mixture, Surface has the experience and knowhow to provide an effective solution. Our pit furnace designs are used by many heat treaters for carburizing, nitriding and ferritic nitrocarburizing. Process times vary between 2 hour quench and temper cycles, to 40 hour nitriding cycles, to 2-3 week deep case carburizing cycles. Surface atmosphere pit furnaces can be heated by gas-fired radiant tubes or electric resistance heating elements. Our proprietary high temperature fans efficiently distribute the furnace atmosphere through the load for consistent results.
All Surface Combustion batch furnace designs allow for flexibly tailoring each portion of the heat treat cycle: purging, heating, soaking and cooling. Surface batch furnaces are designed to be used for multiple different cycle recipes, allowing one furnace to flexibly perform a diverse range of materials, products and processes.
Our pit furnace lids use our proprietary heat and atmosphere tight door design and are hydraulically lifted and rotated to allow top loading by an overhead crane. Depending on your needs, loads may be supported from the bottom of the furnace or hung from the lid. Surface provides a full complement of companion equipment including washers, temper furnaces, gas generators, loading systems and quenches to compete an entire heat treat line. Besides companion equipment, Surface offers advanced controls and support services for single source responsibility. This allows you piece of mind that your installation will run smoothly, and your equipment will be taken care of for the long term.
---
Please call us when you are ready to discuss a new furnace or maintain, upgrade or replace your furnace or any part of your furnace. At Surface, we look forward to helping you with any thermal processing needs.
Call Surface with the following information ready to initiate your furnace solution.
cycle
operation
hours per year
available space
operating temperature range
heat source
Need Support?
Please call us when you are ready to discuss a new furnace or maintain, upgrade or replace your furnace or any part of your furnace. At Surface, we look forward to helping you with any thermal processing needs.
For Parts and Service, have one or more of the following details regarding your furnace if possible:
Serial number
Drawing number
Photos of your furnace or parts for replacement
Spare parts list
Furnace rebuild history